Atlantis Rail has launched the ORION II Cable Railing System. Are you looking for a cost-effective and sleek-looking cable railing system? Well, look no further! This aluminum cable railing system has a modern look that can fit any indoor or outdoor property.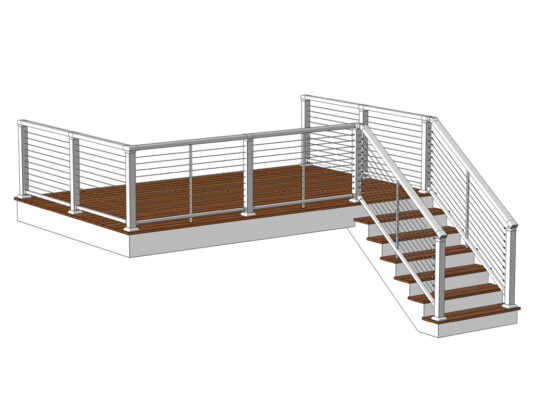 ORION II Cable Railing
The ORION II System features a powder-coated aluminum framework combined with a horizontal stainless steel cable infill. The framework is made up of 3" x 3" posts, a standard bottom rail, and a flat, continuous top rail. The cable infill consists of HandiSwage™ fittings and 1/8" cable. Check out our ORION II Sell Sheet as a resource to learn more in-depth information on our newest addition to the Atlantis Rail Cable Railing family! You will love this simple design that allows installers to handle a variety of rail transitions using a small set of adaptive rail fittings.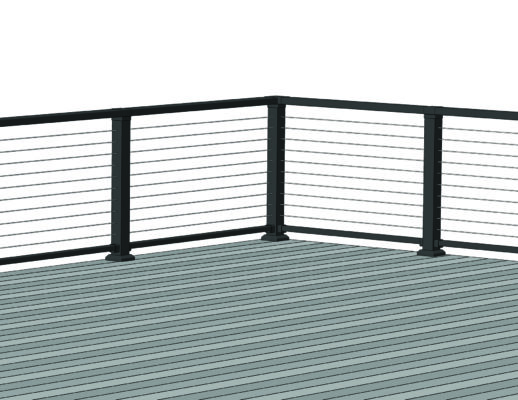 ORION II Features & Benefits
The ORION II Cable Railing System has many features and benefits including marine grade stainless steel cable infill. HandiSwage™ hardware is made from the extremely corrosion resistant type 316L stainless steel and factory electro-polished to add years of long-term value and enjoyment! Check out our Rail Care Guide when it comes to maintaining your beautiful new ORION II System. Powder-coated stainless steel and aluminum products cannot be completely maintenance free. Low maintenance depends largely on the proper cleaning immediately after install and the proximity to saltwater. The ORION II is not only cost-effective but gives you a contemporary look that will compliment your indoor or outdoor space!
Perks of the ORION II System
Many perks come with the ORION II System such as stainless steel cable infill for maximum corrosion resistance. Have the best of both worlds by combining modern looking aluminum posts and rails with stainless steel cable infill for a low maintenance setting. You can also keep the integrity of your property with the three color options included in our ORION II System. The ORION II is offered in a matte textured powder-coat finish of black, bronze, and white to keep your style intact. We also have touch-up paint available in these colors and finish to fix any scratches that may occur during installation.
The ORION II System provides an easy installation because of the minimal components and cable assemblies that are cut and installed in the field using Atlantis Rail's hand swage tools. Do not forget to check out our additional accessories such as ADA Compliant Handrails and Micro Star™ Lighting.
Atlantis Rail Systems: The Leader in Cable Railing Systems
To learn more about beautiful and practical cable railing systems for your deck, stairs, and balconies, browse the Atlantis Rail Systems website. This Plymouth, MA-based company offers many unique, easy-to-install configurations complete with all necessary hardware to ensure a safe and code-compliant railing system.
For more information on planning cable railings for decks, contact the railing experts at Atlantis Rail Systems at 1-800-541-6829 or by completing the Contact Us Form.