Glass Railing System "Ready to Ship"
Atlantis Rail offers a variety of glass panel systems and components with glass fastening options for horizontal or vertical attachment applications. We have a variety of glass connector to fit tubular railing or flat posts and rails. The contoured glass panel connectors fit a 2" stainless steel tube which can be used with the RailEasy™ or SunRail™ Glass Systems. The flat glass panel connector is ideal for integrating glass into any square post rail system or into a Spectrum System. The Glass Panel Base can be used on many applications including the Spectrum System with no top rail for a completely unobstructed view.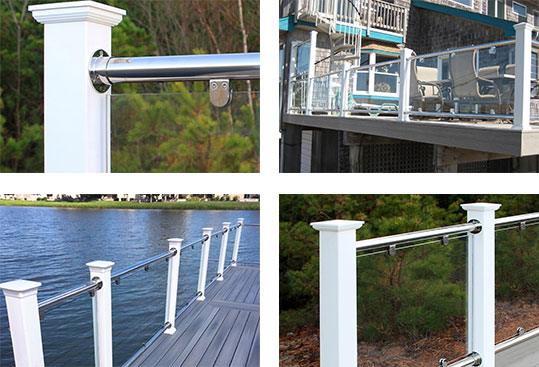 Glass Railing System Specifications
Atlantis Rail Glass Railing System come in a variety of formats adapted from our standard railing product for easy install. We use formfitting glass clip for SunRail™ and RailEasy™ Glass systems that match the curve of our 2″ railing tube. For Spectrum Glass we utilizes surface mounted square posts (available in 36" and 42" heights) adapted with our flat glass panel connectors to accept 3/8" or 1/2" glass infill. All 3 options are designed for use with a customer supplied glass.
CHOICES IN GLASS
The Glass Railing System combines the modern look of a stainless steel top and bottom rail and glass infill with your wood or vinyl posts. The rails arrive with glass clamps pre-attached for a quick installation and creation of a fabulous glass railing system. Glass railings create a perfect barrier against the wind without blocking your view, but that are generally quite expensive. The RailEasy™ Glass System drastically reduced the cost of installing a glass railing. You will also enjoy the low maintenance quality of stainless steel railings.
RELATED PRODUCTS
Spectrum System
The Spectrum Cable Railing System is a customer favorite featuring 1 ½ x 1 ½ inch post made of heavy gauge stainless steel and powder coated for maximum durability.
SunRail™ Cable Railing
The SunRail™ stainless steel cable railing design combines the modern look of stainless cable railing with our polished or brushed stainless steel rails.
This Glass Panel Connector utilizes a 5/16″ to 3/8″ thick glass.
The RailEasy™ Glass Panel Kit is used for the RailEasy™ Glass Panel System.
The outside dimension of the sidemount matches the width of a standard vinyl post, and other types of standard 4″ x 4″ posts.
The RailEasy™ Installation Tools are essential when installing a cable railing system.
The Microfiber Polishing Cloth effortlessly cleans and polishes all metals, fiberglass and plastics.
The colonial post base fits over standard 4″x4″ vinyl sleeves including the RailEasy™ Sleeve.
Accent RailEasy™ Systems with vinyl post sleeves, designed to fit over standard 4″ x 4″ wood posts.