CABLE RAILING SOLUTIONS
What's Cable Railing and Why Should I Consider Cable Railing for Decks, Balconies & Stairs?
The use of cable railing has become increasingly popular in both commercial and residential settings. Cable railing systems are designed for professional results but are also friendly to the do-it-yourself enthusiast. If you'd like to learn more about the ins and outs of cable railing systems to see if it's right for your project, simply read on!
WHAT IS CABLE RAILING?
Cable railings (also known as cable railing systems and wire rope railings) are a low maintenance alternative to traditional wood or metal railings. Quite simply, they are guard rails and hand rails that use horizontal cables in place of traditional spindles, glass, mesh, etc. for infill.
TYPES OF CABLE RAILING
There are a variety of cable railing options to choose from. This section will explain a bit more about what those are.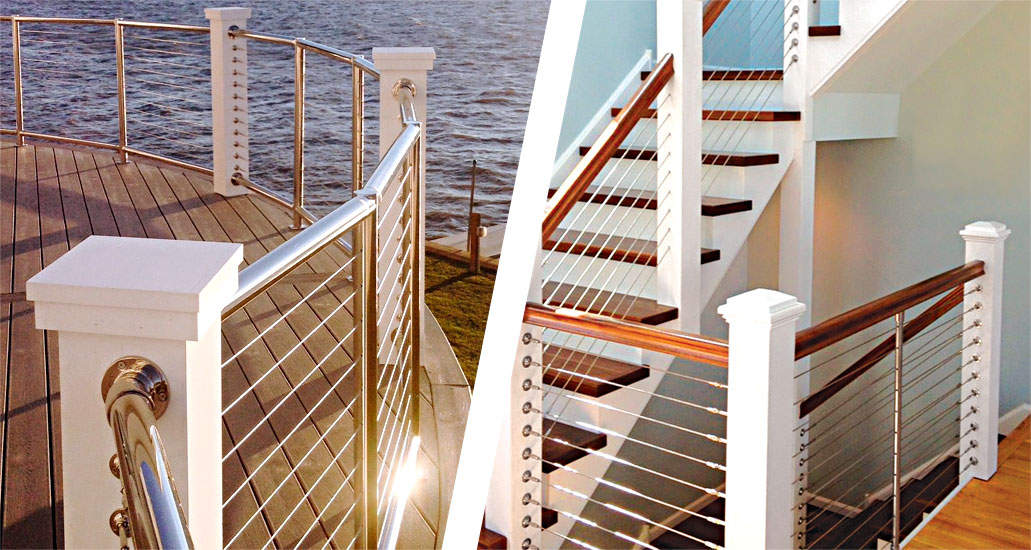 HORIZONTAL CABLE RAILING OPTION
Horizontal cable railing (in which cables run horizontally to the deck base or floor) is the most prevalent form of view enhancing railing available. A great view is enhanced tremendously by removing balusters and other obstructive material from your railing while still proving safety and aesthetics. A top rail is always necessary when building a cable railing system as are structural post so you want to optimize the small amount of hardware used by making it stainless steel. The top rail should always be installed in a way that allows the top rail to absorb and deflect the pressure applied when the cable is tensioned. It is a best practice to secure the top rail by bracing it between the posts rather than simply placing the rail on top of the posts.
Comparison of metal vs. wood cable railing system
As long as rail posts can handle the necessary tension, either wood or metal may be used. It simply depends on which look is desired. Wood gives a warmer, earthier feel, while metal provides a more industrial vibe. Atlantis Railing offers several systems that combine wood and stainless steel cable including our HandiSwage™, RailEasy™, Spectrum, and SunRail™ systems. We encourage creative cable railing designs that enhance the stainless steel railing components.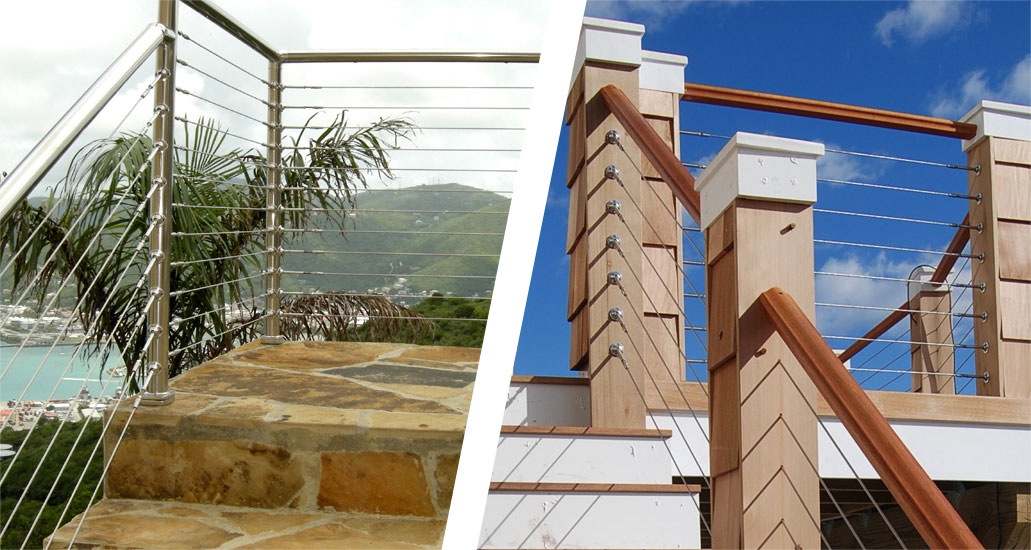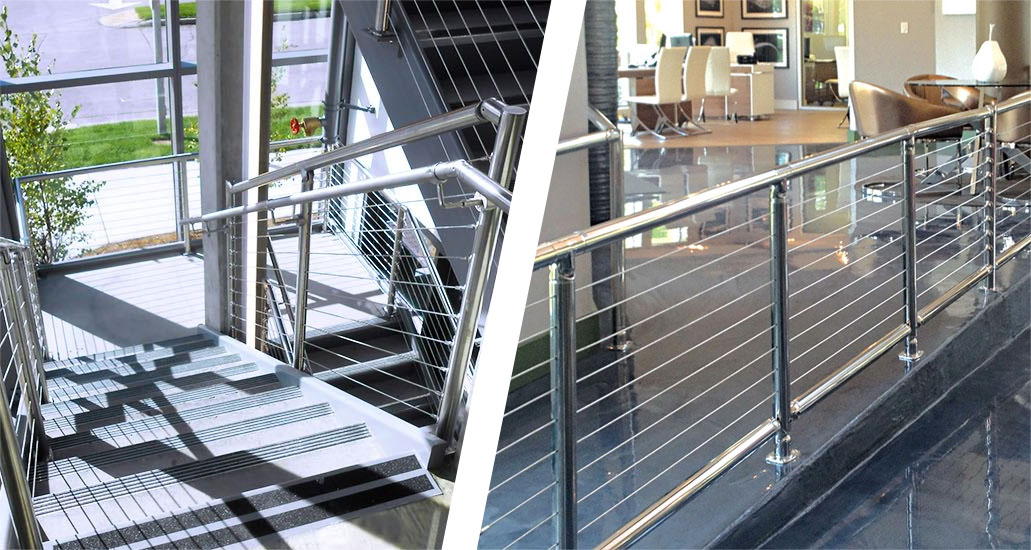 Code Compliant Cable Railing
At one time building code restrictions limited the use of any horizontal railing for general use, which would include cable railing. In 2001, the International Code Commission (ICC) removed this "ladder law" restriction from the International Residential Code (IRC). Though there is nothing stated in the IRC or International Building Code (IBC), any state or municipality has the right to write in their own code and to interpret existing IRC and IBC. With cable railing you should always consult the local code enforcement official with your plans first. Gain approval before the installation, not after.
Cable Railing Maintenance Tips
Stainless steel cable railing systems should always be made of marine grade 316L stainless steel in order to hold up well in harsh environments, maximize durability and provide low maintenance. Stainless steel can discolor under normal environmental exposure, including salt water. If some 'sprucing up' is needed, a simple car wash soap can be used to clean the metal. If the metal surface scratches or discolors, a passivating fluid may be used to neutralize any possible contamination of the stainless surface. See our cleaning products here.
CABLE RAIL SYSTEM STYLE & DESIGN
Cable Railing for Decks & Balconies
Your house has a fabulous view and is likely one of the reasons you bought the house. Yet what happens every time you take your favorite beverage out to your deck to enjoy it? Once you sit down, you find yourself staring not out at the view, but at the pickets of your railing or the dirty glass you hate to clean.
To solve that problem, cable deck railing offers a much more 'viewer-friendly' alternative to traditional picket or glass railings. Because cables are thinner than wood pickets, they offer an increased viewing area with nearly unobstructed views.
With cable railing systems available in a variety of configurations, it is easy to choose a system that reflects your personal style, practical needs and safety concerns. For example, to create a modern look, choose a fully stainless product or to create a warmer, cottage feel, choose a system that incorporates wood handrails and posts.
What Makes Stainless Steel "Stain – Less"
The protective layer of stainless steel that makes it hold up to the elements is a Chromium Oxide Passive layer only tens of nanometers thickness (thus the term passivation). 316 Stainless Steel contains a minimum of 16% Chromium and its reaction to Oxygen creates the Chromium Oxide Passive layer. 316 Stainless Steel also contains the critical elements of 10% Nickle, 2% Moly and approximately 64% Iron. The amazing corrosion resistant properties of stainless steel to render a metal compound of 64% Iron with such high corrosion resistance is very dependent on a strong and contaminant free Chromium Oxide Passive layer.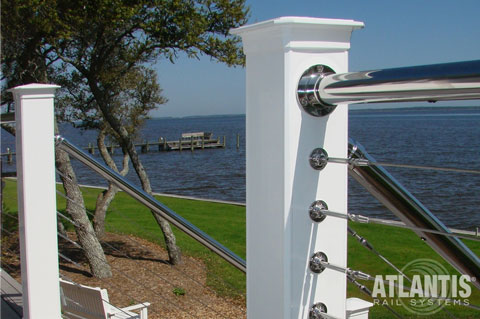 How Do You Install a Cable Railing System?
Always read the Atlantis Rail cable railing instructions before attempting to install. Installing a cable railing system is straightforward and relatively simple with Atlantis Rail products. For complete information on how to install any Atlantis Rail cable railing system, visit our How to Install Cable Railing page, or watch our instructional videos. Each Atlantis Rail cable railing system has a specific set of instructions and/or video.
Basic Cable Railing Install the RailEasy™ Way
Step 1: Plan your project
Step 2: Measuring
Step 3: Install
Atlantis Railing Cable Systems
Cable railing systems or stainless railing systems are available in a variety of styles and configurations. They are easy to install, low maintenance, and can be used for both indoor and outdoor cable railing applications.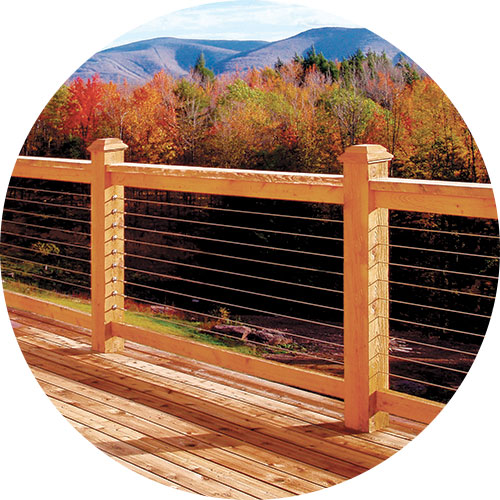 RailEasy™ Cable Railing System
CABLE, HARDWARE AND OPTIONAL COMPONENTS TO USE WITH YOUR WOOD
The RailEasy™ Cable Railing System combines the natural beauty of wood with the streamlined look of patented RailEasy™ fittings and cable. These fittings and cable are made from the extremely corrosion resistant type 316L stainless steel to add years of long term value. Atlantis Rail does not provide the wood, only the cable, hardware and optional vinyl components. A bottom rail is optional.
Spectrum Stainless Steel Cable Railing System
STAINLESS STEEL SQUARE RAILING WITH HORIZONTAL CABLE INFILL
The Spectrum System is an easy to use, universal cable guard railing product. It utilizes fascia mounted or surface mounted square posts and horizontal cable infill of HandiSwage™ studs. It is designed for use with a customer supplied hard wood top railing. Universal posts are used for corners, ends and mids, allowing for a truly off-the-shelf guard rail solution. Choose from the stock colors of black or metallic silver or the special colors.
Nautilus Cable Railing System
STAINLESS STEEL CABLES WITH STAINLESS STEEL RAILS
The Nautilus Cable Railing System design combines the view enhancing look of stainless steel cable railing and our polished or brushed stainless steel rails. All of our stainless steel railings are designed for professional results but perfect for the do-it-yourself enthusiast. Nautilus Cable Railing with stainless steel rails will provide years of unobstructed views.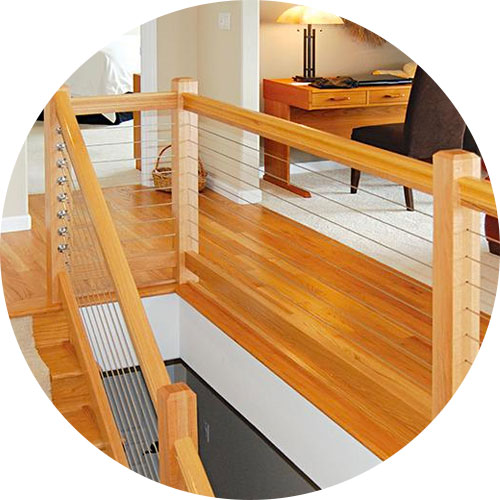 HandiSwage™ Cable Railing System
CABLE RAILING SYSTEM UTILIZING HAND SWAGE FITTINGS
The HandiSwage™ Cable Railing System is an easy-to-use cable railing product utilizing fittings that are an adaptation of traditional swage fittings. They can be attached to cable using Atlantis Rail's hand swage tools. The HandiSwage™ System combines the aesthetic appeal, quality and durability of the RailEasy™ cable components with the convenience and economy of 1/8" or 5/32" cable.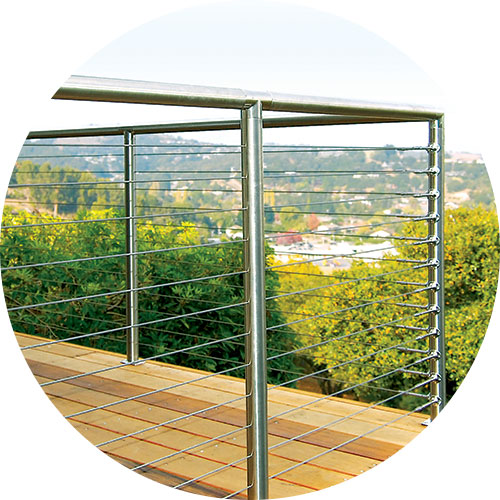 SunRail™ Cable Railing System
STAINLESS STEEL CABLES WITH STAINLESS STEEL POSTS AND RAILS
The SunRail™ stainless steel cable railing design combines the modern look of stainless steel cable railing with our polished or brushed stainless steel posts and rails. Our stainless steel cable railing is perfect for interior or exterior; commercial or residential applications where clients require sophistication and a unique look. You will enjoy years of low maintenance use and the rich look of stainless steel.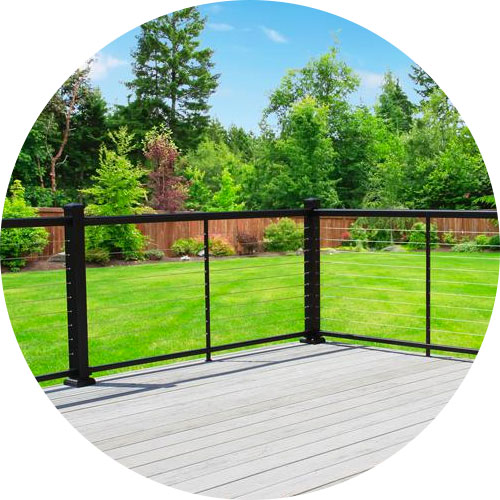 Nova II Cable Railing System
CABLE RAILING WITH POWDER-COATED ALUMINUM POSTS AND RAILS
The NOVA II System features powder-coated aluminum posts, handrails and foot rails and horizontal cable infill. The cable infill utilizes HandiSwage™ fittings with 1/8″ cable. The NOVA II System is offered in black, white and bronze color options. The HandiSwage™ cable infill features a line of stainless steel hand swage fittings and 1/8" cable, making it one of the simplest and most economical cable railing systems available.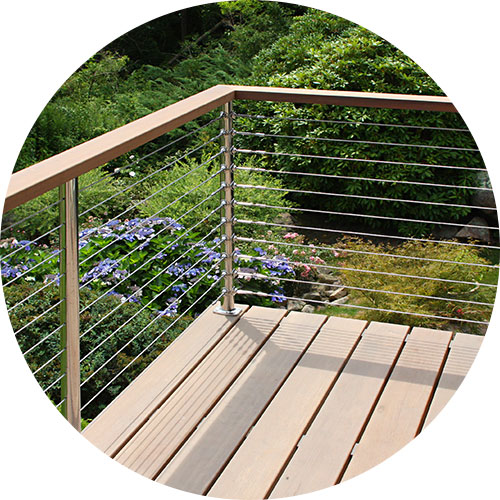 Latitude Stainless Steel Cable Railing System
STAINLESS STEEL CABLE RAILING WITH WOOD HANDRAIL
The Latitude Cable Railing with wood handrail (customer supplied handrail) is comprised of mechanical swage tensioners riveted to 2" outer diameter stainless steel posts to allow for cable railing infill. The top rail mounting plate offers easy installation with virtually no hardware obstruction and allows customers to select their desired flat top rail. There is an adjustable top rail mounting plate which is prefect for stair applications.
Why Consider Atlantis Rail for Your Cable Railing Needs?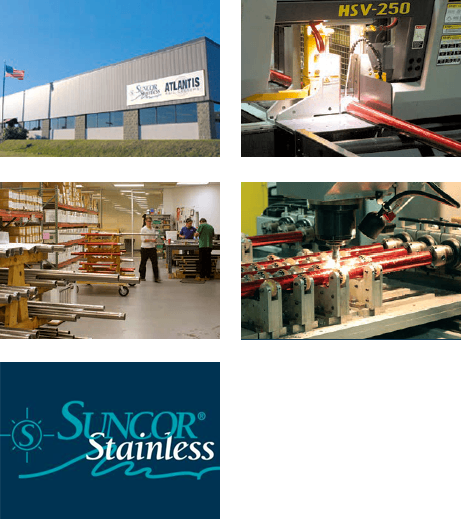 Atlantis Rail Systems is a division of Suncor Stainless. Suncor Stainless has been a leading manufacturer of stainless steel products for 35 years. Unlike railing companies who decide to go into the stainless steel cable railing business overnight, Atlantis Rail Systems is a stainless steel company that has engineered a best of class cable railing offering through years of knowledge and experience.
Our company has learned the lessons of making quality stainless steel products long ago while supplying stainless steel wire rope and fittings to every industry imaginable, including the architectural industry. In the early days of cable railing, we sold standard marine cable hardware, but it became apparent that a simplified, attractive and easy to use set of hardware was necessary. The patented RailEasy™ Tensioner was designed and with it Atlantis Rail Systems was born. From there, more patented components were introduced and we expanded to offer the highest quality and greatest variety of cable railing available today.
As a division of Suncor Stainless, Inc., Atlantis Rail Systems has the ability to handle any project and ramp production necessary to meet any customer demand.
Our in-house testing facilities allow us to stand behind our products and guarantee the safety of our stainless steel cable railing systems. After we complete development and testing of our systems we send them out for independent laboratory testing and certification to meet building code requirements.
Our best reason for choosing Atlantis Rail Systems is customer service. We maintain a staff of knowledgeable quote specialist that respond quickly to your request for information and quotation. Our account managers all have several years of experience to help assist you. Our outside sales representatives are always eager to provide assistance and our combined team's servicing philosophy ensures that we will outperform and out service other companies in the business.