A Sleek and Stylish Square Post System with Many Options
The Spectrum Cable Railing System features a variety of ready to install square posts for surface or fascia mount applications. Top rail is provided by the customer in recommended minimum 2" x 4" hardwood. The HandiSwage™ cable infill offers a choice between using 1/8" or 5/32" cable. The Spectrum Cable Railing System is made for harsh environments and built to last. 3D assembly instructions for the Spectrum System now available on the BILT app. Visit your app store to download the BILT app for free. This app can be used on Apple and Android devices.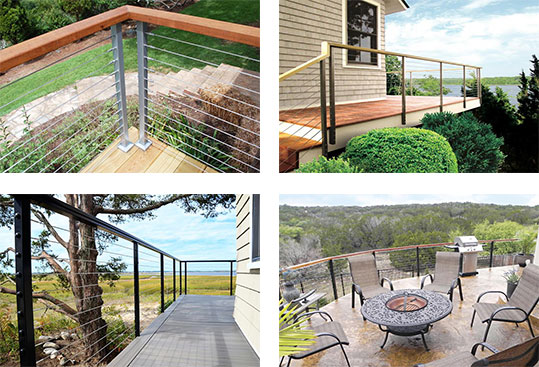 Spectrum System Specifications
The Spectrum Cable Railing System is an ultra-sleek easy to use cable guard rail system. Available in fascia mounted or surface mounted formats and utilizing HandiSwage™ cable infill options. It is designed for use with a customer supplied hard wood top railing. Universal posts are used for corners, ends and mids, allowing for a truly off-the-shelf guard rail solution. This modern and industrial system is offered in standard color options of black, metallic silver, white and dark brown. Special order color options are also available. CLICK HERE to view color chart. Ninety percent of Spectrum Systems are off the shelf with no lead time.
VIEW FRIENDLY AND TOUGH
The Spectrum Cable Railing System is built tough to withstand the elements, but sleek to provide maximum strength with minimal view interference. With Spectrum you get the strength of a heavy walled post and the added protection of powder coating. We have 6 colors to choose from or you can use Spectrum uncoated if you prefer. Available in fascia mounted or surface mounted formats and utilizing HandiSwage™ cable infill options. Appropriate for residential or commercial applications with ADA handrail and gate options available. Look at what our customers have done.
RELATED PRODUCTS
HandiSwage™ Cable Railing
The HandiSwage™ System is designed to allow hidden cable fastening utilizing innovative swage components.
Cable Railing Gate
Stainless Steel Gates are made to match our railing systems or sold as stand-alone gate systems with cable infill.
Glass Railing Systems
Atlantis Rail Glass Railing Systems are available in versions of SunRail™, Spectrum and RailEasy™.
The HandiSwage™ Standard Stud makes installing an architectural cable railing system quick and easy.
Designed for use with the HandiSwage™ Studs and RailEasy™ Stud Assembly.
The Stair Spacer is ideal for stair applications where a "through post" fitting is being utilized to achieve an angled cable run.
A Cable Cutter is an essential tool when installing a cable railing system.
The HandiSwage™ Hand Swager features rubber handles for optimal gripping and swages fittings onto 1/8″, 5/32″ and 3/16″ cable.
The HandiSwage™ Combination Wrench Set includes 2, 3/8" and 7/16" combination wrenches and is used to aid in the installation of HandiSwage™ and Deluxe Cover Nut Sets.
The Micro Star™ LED Light Bar features a flexible LED light strip of natural white LED lights set into a powdercoated aluminum channel with a clear plastic lens.
The Micro Star™ Transformer is used with all Micro Star™ lighting products.
These grommets are used with 1/8" cable for the Spectrum or NOVA Systems. They snap onto the cable and slide into post and stabilizer holes.