Cable Railing Gates for SunRail™, Spectrum and NOVA II
Cable Railing Gates are made to match our railing systems or sold as stand-alone gate systems. The standard infill for our gates is cable, spaced to match the system you are purchasing. Our gates are made with standard heavy duty self-closing hinges, but we can use alternative hardware upon customer request. For latches we use a variety of sources depending on the application. The combined heavy duty construction and heavy duty self-closing hinges make our gates safe and durable for any application.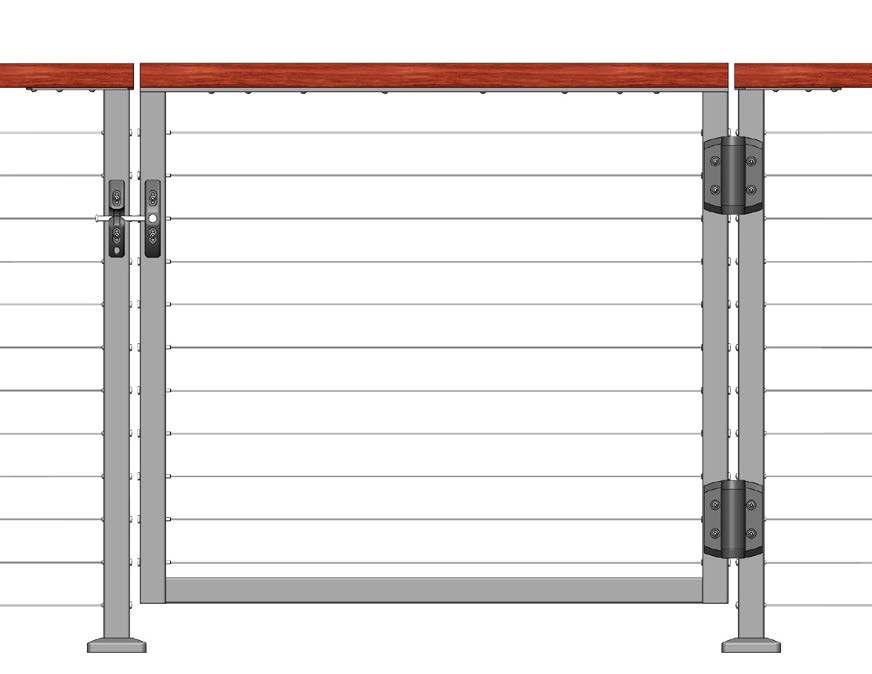 Spectrum Gate
The Spectrum Gate Kit is available for a 36″ or 42″ height Spectrum Cable Railing System. These gate kits come standard with pre-installed cable and fittings. They are installer friendly and attach easily to stock Spectrum Hinge/Latch posts using the Spectrum Gate Mounting Hardware Kit (sold separately). A customer sourced hardwood flat handrail (minimum 2″ x 4″) is attached to the gate frame using the supplied screws. This gate is available in standard and special Spectrum colors. CLICK HERE to view the color chart. For use with the Spectrum System only.
ACCESS AND SAFETY
Our gates are made to match our railing systems and we use the best components available to make sure you have safe and attractive access points where needed. We have the ability to do custom work on gates as well so we can provide for almost any requirement.
RELATED PRODUCTS
SunRail™ Cable Railing
The SunRail™ stainless steel cable railing design combines the modern look of stainless cable railing with our polished or brushed stainless steel rails.
Spectrum System
The Spectrum Cable Railing System is a customer favorite featuring 1 ½ x 1 ½ inch post made of heavy gauge stainless steel and powder coated for maximum durability.
NOVA II Cable Railing
The NOVA II System features powder-coated aluminum posts, guardrails and foot rails and horizontal cable infill.
The square elbow is used as a modular component in a SunRail™ system.
The RailEasy™ Tensioner Round is used in SunRail™ and Latitude Cable Railing applications.
The Heavy Duty Cable Cutter is offered in different lengths to accommodate various wire rope sizes up to 1/4″.
Special railing adhesive joins railing components to stainless tubing to assemble systems.