Welcome to Atlantis Rail's NOVA Nautilus System. We went over our Glass Railing System last time but this month we will look into our NOVA Nautilus System.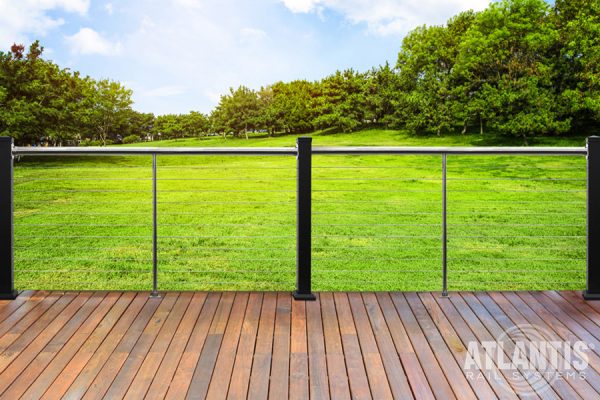 The NOVA Nautilus Cable Railing System
The NOVA Nautilus System features powder-coated aluminum posts, stainless steel rails, and horizontal cable infill. The cable infill utilizes HandiSwage™ fittings with 1/8" cable. Features include 1/8" diameter cable and a line of HandiSwage™ fittings, including studs and tensioners. All rails, fittings, cable, and accessories are made from electropolished, 316L stainless steel for maximum corrosion resistance and durability. We also offer cover nut sets to match the aluminum, powder-coated posts for a finished look.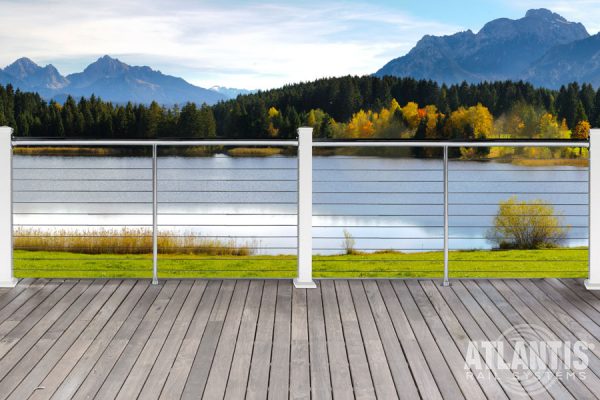 NOVA Nautilus Specifications
The NOVA Nautilus System utilizes pre-drilled aluminum post sets with a 2" stainless steel top and optional bottom rail. Due to the structural strength of stainless steel, you can use it with just a top rail, or you can add a bottom rail if you prefer. Cable spacing at 2-3/4" allows you to space your posts up to 7 feet apart when using a cable stabilizer in the middle. Posts are available in the following colors black, white, and bronze. Check out our color chart on our website. 2" Rails are available in polished and brushed finishes.
At Atlantis Rail, we offer a complete line of stainless steel and aluminum cable railing systems. If you do not prefer our NOVA Nautilus System, check out our photo gallery on our website to find which cable railing system is right for you.
Atlantis Rail Systems: The Leader in Cable Railing Systems
To learn more about beautiful and practical cable railing systems for your deck, stairs, and balconies, browse the Atlantis Rail Systems website. This Plymouth, MA-based company offers many unique, easy-to-install configurations complete with all necessary hardware to ensure a safe and code-compliant railing system.
For more information on planning cable railings for decks, contact the railing experts at Atlantis Rail Systems at 1-800-541-6829 or by completing the Contact Us Form.