Welcome to Atlantis Rail's Latitude System. If you're looking for a system with the enjoyment of unobstructed views, take a look at our Latitude Cable Railing System.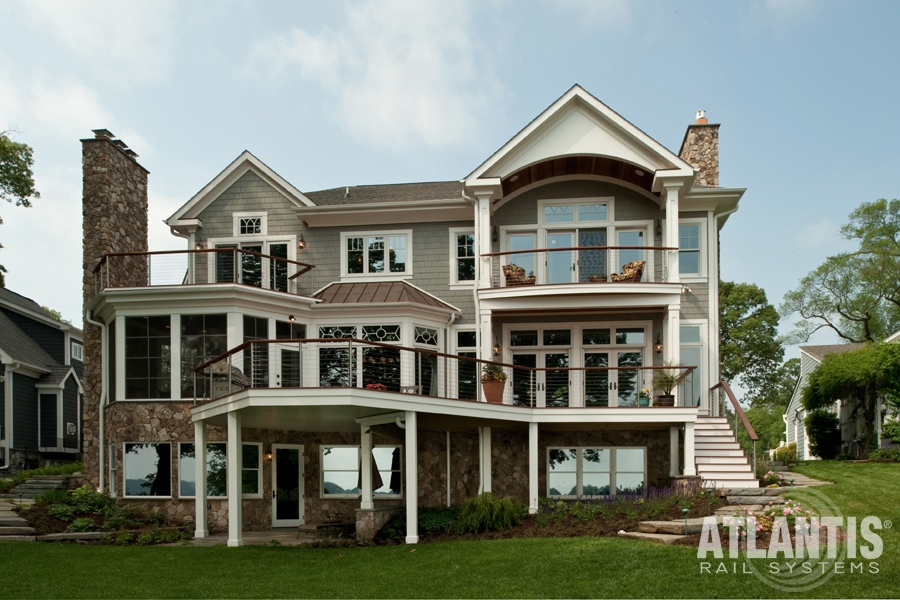 Charming And Unobstructed Cable Railing System
The Latitude Cable Railing System is comprised of mechanical swage tensioners riveted to 2" outer diameter stainless steel posts. All fittings, cables, and posts are made from 316L stainless steel for maximum corrosion resistance and durability. The Latitude System is very versatile. The adjustable fitting has the ability to fit a variety of stair designs. Surface or fascia mounting options are available.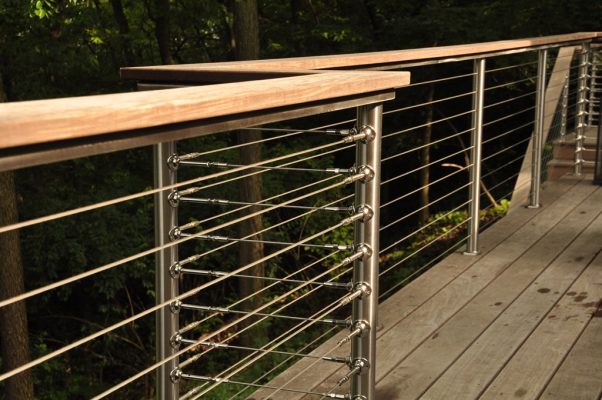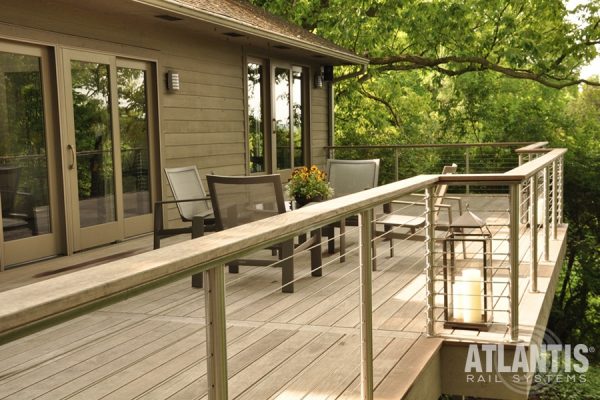 Customer Supplied Hardwood Top Rail
The Latitude Cable Railing System requires a hardwood top rail (customer supplied). The combination of wood with round stainless steel posts offers an opportunity to customize your one-of-a-kind railing. The patented RailEasy™ hardware makes this an easy install. This railing system is appropriate for residential or commercial applications with ADA handrail and gate options available.
Perks Of The Latitude System
The Latitude System offers you an easy install and little maintenance. The RailEasy™ Tensioners feature a round base and compression fitting, which enables installers to cut cable on-site, removing the hassle of pre-measuring and the cost of miscalculating dimensions. Customers get to choose the desired top rail, while our top rail mounting plate offers easy installation with virtually no hardware obstruction. The adjustable top rail mounting plate will be utilized in stair applications. Check out our resources & downloads page within our website to learn more about specifications and instructions.
At Atlantis Rail, we offer a complete line of stainless steel cable railing systems. The Latitude Cable Railing System may not be for you, but check out our photo gallery on our website to find which cable railing system is.
Atlantis Rail Systems: The Leader in Cable Railing Systems
To learn more about beautiful and practical cable railing systems for your deck, stairs, and balconies, browse the Atlantis Rail Systems website. This Plymouth, MA-based company offers many unique, easy-to-install configurations complete with all necessary hardware to ensure a safe and code-compliant railing system.
For more information on planning cable railings for decks, contact the railing experts at Atlantis Rail Systems at 1-800-541-6829 or by completing the Contact Us Form.