At Atlantis Rail, we want to make the installation process run as smoothly as possible. We have made multiple ways for you to access instructions and resources when dealing with installing our cable railing systems.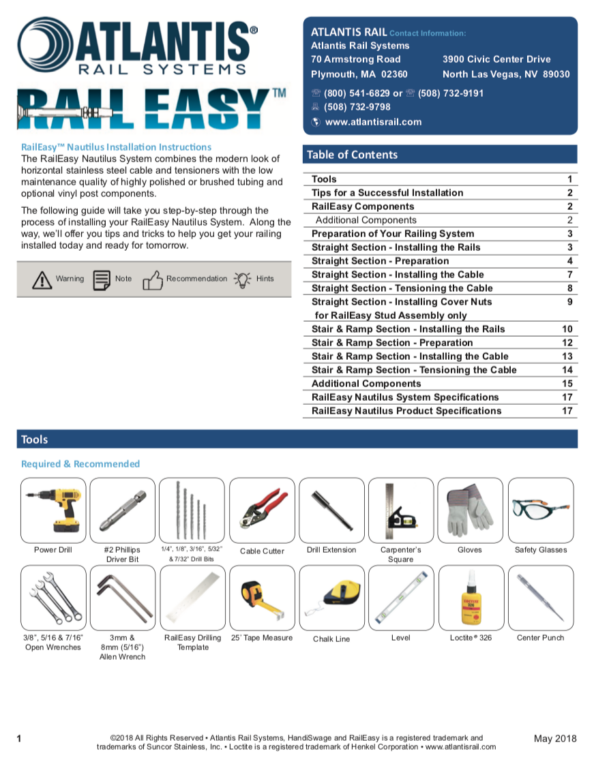 Installation Instructions
We provide an array of instructions and resources for all of our systems. Our step-by-step installation instructions can be downloaded and printed on our website. The instructions outline the tools and parts needed for your project and include helpful tips to make the installation process of your railing system a breeze. We also provide recommendations, notes, and warnings to help guide you through the process.
Installation Videos
Sometimes visuals will work better when going through the installation process. That is why we also provide installation videos to help ease your way through the installation process. We have several easy-to-follow videos on our website and YouTube that will aid in the installation process. Included videos cover planning, calculating, and measuring our RailEasy™ system, tensioner installation, installing a HandiSwage™ system, NOVA II level and stair applications, and more!
Cable Railing "How-To"
The RailEasy™ Cable Railing "How-To" page is dedicated to helping guide you through the proper design and installation of the RailEasy™ Cable Railing System. You will find tools needed, recommended products, hardware selection, and use along with proper cable tensioning procedures. We also have the HandiSwage™ Cable Railing "How-To" page which will take you step-by-step through the process of installing your HandiSwage™ cable system, offering helpful tips and tricks along the way.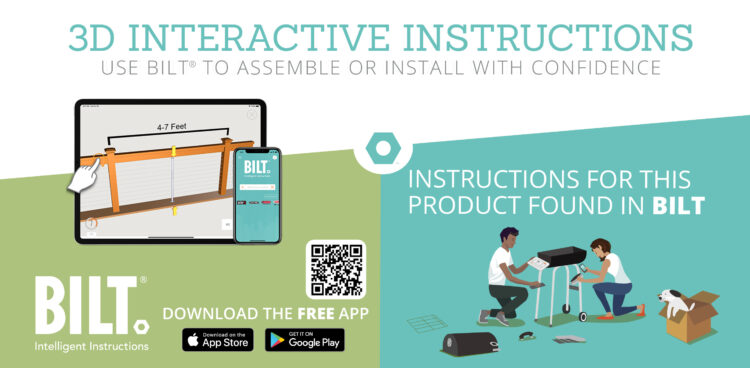 BILT APP For RailEasy™ Cable Railing System
BILT is a revolutionary way of providing assembly instructions through a 3D and interactive format. The voice guide gives step-by-step instruction on the RailEasy™ components, how to plan and calculate, and how to measure and install a RailEasy™ Cable Railing System. BILT gives time estimates, a list of tools needed, and a number of steps. The app is compatible with Apple and Android devices.
Still, have questions? Contact us with any questions or concerns you may have. We would be more than happy to assist in providing the needed information.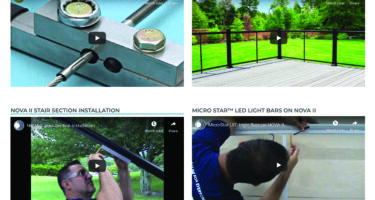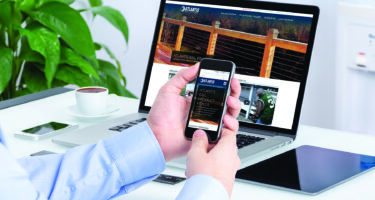 Atlantis Rail Systems: The Leader in Cable Railing Systems
To learn more about beautiful and practical cable railing systems for your deck, stairs, and balconies, browse the Atlantis Rail Systems website. This Plymouth, MA-based company offers many unique, easy-to-install configurations complete with all necessary hardware to ensure a safe and code-compliant railing system.
For more information on planning cable railings for decks, contact the railing experts at Atlantis Rail Systems at 1-800-541-6829 or by completing the Contact Us Form.