Due to advancements in technology and consistent innovations, cable railings are now becoming a common option. Create a statement with cable railing. With a wide variety of materials, finishes and fills, cable railing can make your home or business unique. Constructors today often help homeowners and property owners to make a statement by utilizing cable railings.
Traditionally cable railings are made by using horizontal cables between posts. However you can make them even more interesting by using different infills or by mixing and matching designs. Here are just some of the methods you can use to create an aesthetic statement with your cable railings.
Infill Panels Made With Glass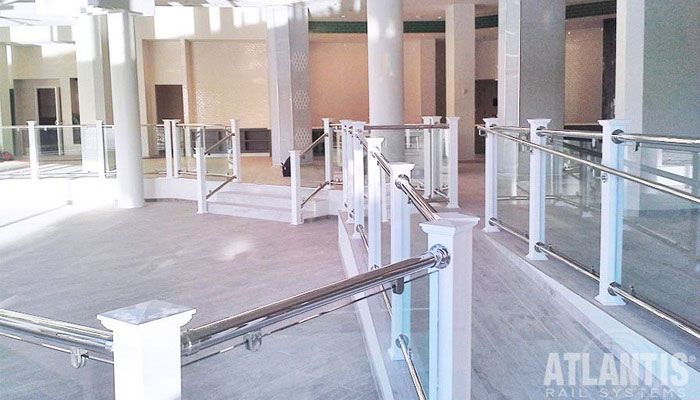 Combining glass infill with your cable railing creates an attractive feature. Glass is often thought of as a cool tone design feature. However by combining glass with wooden posts and a wood top rail, it can create a warm, inviting tone. This combination allows light from outside to filter through. As a result, the space looks bright and feels more open. Another unique feature can be created by finishing the railing with a powder coat, matching the color to a feature in your home.
Mix and Match Infills and Materials
Create a unique statement in your home by combining infill options – perhaps by using a glass railing around your deck with cable railing on the stairs. You can also combine cable railing with traditional railing for a unique statement. Another option is to combine materials. For instance using metal posts with a wooden top rail, or even using wooden corner posts and metal mid posts. The options to mix and match are almost endless.
Infill Panels Made With Wood
This method works best inside the house as the wood is protected from harsh weather elements. Wood can also help transform your room into a more peaceful place. When combined with cable railing, you create a more soothing atmosphere in your indoor space. To come up with a classic modern look, you need to consider the texture and color of both the wood and cable railings. They should blend naturally for a visual appeal and a firm grip.
Final Thoughts
Cable railings not only provide safety but also add to your home's beautiful appearance. Plus the customization options are plentiful. When filled with the right infill material and design combinations, you create a new statement with cable railing for your home or building. For optimal results, you should choose an infill that blends with both the cable railing and room. You should also consider their textures and color.
By carefully choosing the right infill, you will not only make a statement, but the infill can also serve other purposes like enclosing a designated area. You can use it to enclose your space and make it safe for your kids and pets to relax and play