Cable railings have gained significant popularity over the years due to the seamless view they offer. To fully enjoy the beautiful landscape outside your home, use specialized products such as unseen flush fittings and cable stabilizers to give a clean, streamlined view. Cable railings can also give staircases an unobstructed view; hence gaining popularity in commercial establishments. The following are some ways to create a seamless view with Atlantis Rail cable railing system.
Use Cable Stabilizers
To enhance your view through cable railings, use cable stabilizers. They allow you to have up to seven feet of cable railing between frame posts. This view saver kit is for use when posts are more than four feet apart to a maximum of seven feet apart. These stainless steel fittings stabilize the deflection of cables between the posts to give a seamless view. Cable stabilizers must not be used to replace a substantial mid post.
Incorporate Flush Fittings
These unseen flush fittings will give your cable railing a "through post" look. Flush fittings are concealed inside the post giving you less visual obstructions. Atlantis Rail has flush fittings for both the HandiSwage™ and RailEasy™ cable railing lines. The flush fittings are just 1.5 inches in length allowing them to be placed in any post.
Additionally, overall installation is quicker as cable passes through the flush fitting and is then tightened. Both fittings feature a mechanical swage fitting to avoid needing specialized tools during installation. To increase corrosion resistance and enhance durability, the flush fittings are made from 316L stainless steel. Use a tensioning device at the opposite end of the cable run for tensioning capabilities.
Observe Tensioning Schedules
One way of maintaining an unobstructed view is by tensioning the cable railings regularly. To do this, tighten the nuts that hold the cables in place. Over time, screws are bound to loosen, which causes the cable railings to sag. This not only leaves you with an untidy and obstructing view but also causes safety issues. Be sure to maintain your cable railing regularly, and ensure it can always pass the 4-inch sphere rule.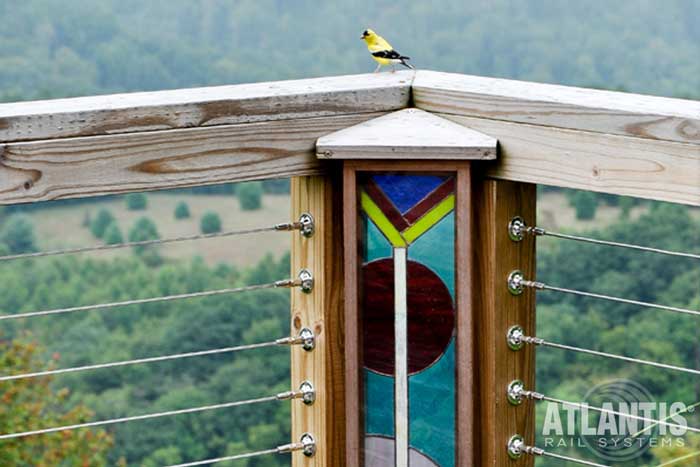 Match your framework material to your design options
There are various framework materials available, including wood, aluminum, metal, and stainless steel. To make your cable railing fit seamlessly, match the cable design to your existing building style. For example, if you have a contemporary, minimalist home, using powder coated posts will mean your cable railing blends in with the aesthetic of your home.
Have accurate measurements
When installing a cable railing, be sure to plan and map out your preferred design and materials. Ensure you choose a post design that meets the structural load requirements needed and that the size of the posts can tolerate the tension-related stresses. Consider the space between posts and whether the cables will need to go around corners.

Having a set plan and accurate measurements allow you to minimize the visible hardware and increase post spacing. Therefore allowing you to create a seamless view with Atlantis Rail cable railing system.
Bottom Line
Atlantis cable railings will give your home and commercial establishment a seamless view. Especially if you use products such as cable stabilizers and flush fittings. Remember to tension your cables, and have accurate measurements for installation. This will prevent drooping, sagging, and deflection of cables, resulting in a streamlined view.