Over recent years, cable railing systems have gained formidable popularity. You will likely see these systems not only on commercial establishments but also on residential premises. Most often you will see them used on an external porch, balcony, or deck. However, cable railings are also being used for interior staircases. In this article, we cover what the best cable railing options are for indoor stairs.
While the traditional wood and metal railings have been in existence for a long time, cable railings are an excellent option for any forward-thinking home or business owners. This is due to their flexibility with any home design; offering unobstructed views, easy maintenance, and durability.
Best Cable Railing Options for Indoor Stairs
Cable Railing Open Concept Offices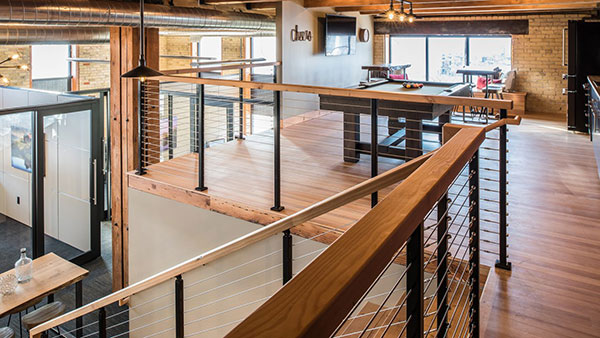 This is one of the most common indoor cable railing options for offices that desire an open concept floor plan. It is, without a doubt, the railing option that showcases an unobstructed feel. This railing option is designed to match commercial décor and is made using stainless steel square posts powder-coated black and stainless steel cable infill. The railing is then completed with a wood top rail. This option can make your indoor staircase a real statement piece for your office.
Traditional Cable Railing
Another cable railing option that works well with indoor stairs is a traditional style railing. This cable railing system is designed to suit a farmhouse style, traditional or rustic interior. With an oak wood top rail and posts and horizontal cable infill, this option looks stunning. Additionally, oak treads and flooring are commonly used to complete the look.
Cable Railing for a Modern Beach House
Imagine having a beach house with wood flooring, exposed Douglas fir beams, and some island cabinets? For such a house, you need to spice it up with perfectly matching stairs. The best cable railing option for this style is made of wood posts painted white, dark stained wood handrails and stair treads and horizontal stainless steel cable railing.
Cable Railing to Mix Old with New
If you have a home with an old-world feel, you need the perfect cable railing option to enhance your home. To balance the old, try adding a completely stainless steel railing system featuring horizontal cable railing infill. This will give your staircase a unique look for an old home. For a more modern feel, you can also integrate and LED lighting system into the handrails.
Aluminum Cable Railing
This design is perfect for any house. It will maximize the relaxed feeling you expect in this sort of home. This cable railing system features powder-coated aluminum posts, top rails and bottom rails and stainless steel cable railing infill.
Conclusion
For your project to be a success, you need to invest in the best manufacturer for quality stainless steel cable railing systems. Once you have your style and supplier selected, everything else will begin to fall in place.
The above cable railing options are just the beginning. We have several creative cable railing system options that you can choose for your indoor stairs. These include the Spectrum System, Latitude Cable Railing, Nautilus Cable Railing, HandiSwage™ Cable Railing, and the NOVA II System. Talk with us today to learn more about high quality, affordable and stylish cable railing systems.