Cable railings are great for installation on stairways, decks, and balconies where you do not want your perfect view to be blocked. Instead of bulky pickets or spindles, cable railings are see-through, ultra-thin barriers. Made of stainless steel in many styles, they are very strong and can withstand the elements.
Cable railing kits are designed to provide a clear view profile, which means that you are dealing with smaller and narrower components.
Safety and code considerations for a cable railing kit
The Ladder Effect
The ladder effect can be a safety issue. It is unique to railing infills that run horizontal, and it is based on the concept that when you are offered something that looks like a ladder, people will try to climb it like a ladder. This can pose a danger if you do not follow the manufacturer's instructions.
4" Sphere Rule
This code rule says that no balustrade (infill) can be spaced more than 4″ apart. This rule applies to all railing systems, but it becomes a bit more complex when it comes to cable railing because cables have a slight deflection factor when pressed or pulled in any direction. Cable railings inherent deflection means that cable spacing must be much closer together than 4 inches or it will not pass the 4″ sphere test. The cable's tension should be powerful enough to prevent the cables from moving when the pressure from the sphere is exerted.
We recommend 3 " spacing at a maximum of 4-foot post spacing. If a post is farther apart then 4 foot the cable must be moved closer.
Graspability
In case your deck has a stairway, you must have a graspable and continuous handrail. If your stair rail profile is greater than a basic 2 x 4 you might need to add a handrail to the cable railing kit.
To fully comprehend the graspability requirements, you should understand the disparity between guardrails and handrails. A handrail is designed to provide you with something to grab when walking along the stairway. Conversely, a guardrail is made to prevent you from falling over the edge.
The Best Cable Railing Kit
Now that you have the details in place, it is time to look for a cable railing kit that meets your needs for application and aesthetic value. Here is a list that can help you make the right decision for your home or business.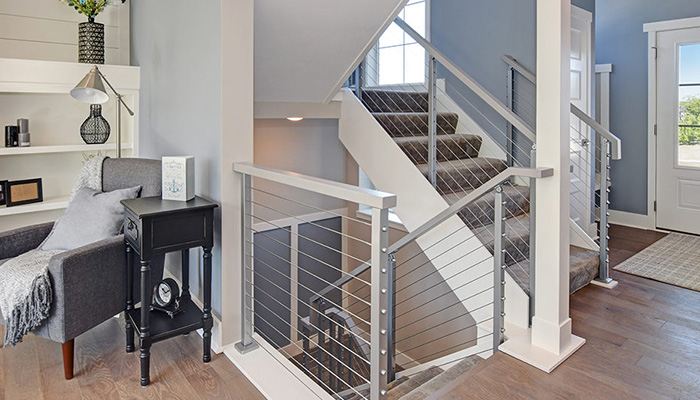 HandiSwageTM Cable Railing Kit
HandiSwageTM is budget-friendly and has some of the simplest cable railing components and methods available. The components and techniques can be utilized when installing cable railing kits in any situation. All parts are made of grade 316L stainless steel for corrosion and durability resistance.
RailEasyTM Cable Railing
RailEasyTM is a collection of innovative methods and components that can be utilized to mount a cable railing system in any situation. Long runs, angles, and stairs are made simple with RailEasyTM. With this system, you'll enjoy many years with an unobstructed view and low maintenance railing, whether inside or outside.
SunRailTM Cable Railing
SunRailTM Cable Railing is a stainless-steel railing kit with modular systems that enable easy installation while providing a custom look. You can get SunRailTM models with infill options of ADA compliant handicap rails and gates as well as glass panels and cable railing systems.
Conclusion
Cable railing kits have multiple uses and are often preferable over other railing systems. Due to their ability to provide an unobstructed view. Since these cable railing systems are transparent compared to pickets, they're ideal for terraces or decks that offer panoramic views. Be sure to keep the above considerations in mind when selecting the best cable railing for your needs.