For decks, balconies, and stairwells, cable railing systems offer a clean, modern style. Home and building owners are choosing cable railings over wood and other metal options to open their environment, create a sense of more space in an enclosed area, and provide a more panoramic, unobstructed view from their decks. Here's what you need to know about cable railing necessary components.
Beautiful stainless steel cable railing systems are nearly maintenance-free and easy to install.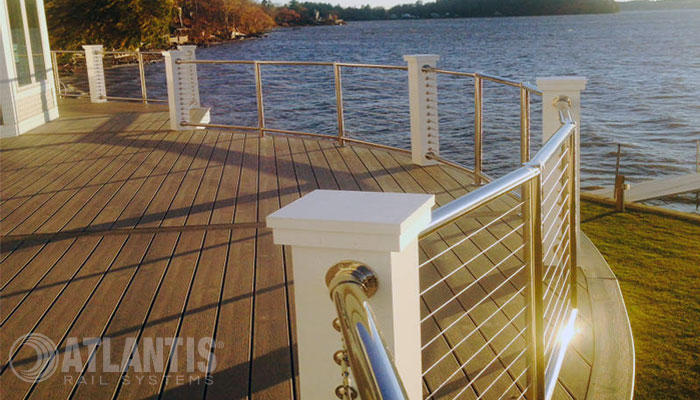 What are the Components of a Cable Railing System?
Most stainless steel cable railing systems supplied by top-quality manufacturers like Atlantis Rail Systems of Plymouth, MA, come with all parts, including top and bottom rails, cable, connectors, and hardware needed to execute a perfect installation. Some opt to perform the installation themselves, while others are more comfortable having the job completed by trained professionals. In either instance, installers must exercise extreme care and attention to detail to ensure the job is done right while strictly adhering to code requirements.
Based on the style and type selected, your cable railing package will arrive at the location with all the necessary parts, connectors, and other hardware to complete a safe, code-compliant cable rail system installation.
Cable Railing Components will include:
Posts, Post Skirts, Post Caps
Depending on the length of the project and style chosen, the customer should receive the appropriate number of line, end, and corner posts. These guide the cables along the entire length of the railing system. Note that code requirements decide the number of posts you need. To meet code, posts must be no further than four feet apart. Caps and other accessories to complement the style will also accompany the set, depending on the railing style chosen. Add post skirts around the bottom of each post for a finished aesthetic.
Gate Kit
The gate's frame, infill material, and hardware should match the vertical posts. Your gate kit will include special hardware for the hinge and latch assemblies.
Top Rail
Top rails can be stainless steel, aluminum, or wood according to preference. This piece creates the upper border connecting the vertical posts. You need to source wooden railings separately. Top rails can also be wide enough to place objects like cups and glasses without risk.
Bottom Rail
This piece is parallel to the top rail and offers extra stability for the railing system. This part is also essential to anchor glass inserts that may comprise the infill.
Infill
The infill is the material that mounts between the top and bottom rails and the vertical posts. Infills are the body of the railing systems. These keep everyone safe within the perimeter. Infills can be stainless cable, glass, composite, wood or metal. The principal code requirement is that infills must prevent a four-inch sphere from passing through.
Hardware Kit, Cable Stabilizers, Tensioners, Studs
Atlantis Cable Systems include all the appropriate hardware, connecting devices, and tensioners. This helps to ensure solid and safe installation with each cable railing system. Proper stabilizers and tensioners stretch the cables fully to avoid any slack and maintain the system's safety.
Get Creative with the Atlantis Rail System Options
Depending on your application, Atlantis Rail Systems of Plymouth, MA, offers a broad choice of styles to match your functional, aesthetic, and economic needs. Sleek, long-lasting, and low-maintenance, Atlantis cable railing systems offer a full range of interior and exterior use options.
Also, Atlantis Rail offers designs for stairways that pass ADA requirements.
To view the catalog of Atlantis Rail System's many adaptable designs and to learn more about cable railings, visit the website at http://atlantisrail.flywheelsites.com/what-is-cable-railing/.
If you have questions about installing a cable railing system, contact the professionals at Atlantis Rail Systems at +1-800-541-6829. You may also complete the brief Contact Us Form, and one of our professionals will contact you promptly.