Whether you're building your home or upgrading your deck, porch, or balcony, one of the most critical decisions that you'll have to make involves the kind of railing to go with. Most homeowners tend to settle on traditional wood or metal railings, and there's a chance that you're considering the same. But what if you have a view and wish to keep it unobstructed or you desire something different or modern? Glass is an option, but cable is the new glass. Cable railing is functional, easy to install, easier to maintain and looks practically invisible.
Cable railing it is. This railing system has been gaining popularity in recent years and you'll often see them in picture-perfect decks and commercial establishments. Why should you choose them for your home? Here are the top 5 reasons:
Flexible for Any House Design
Cable railing has the ability to complement different home styles, locations and orientations. Since this system looks very simple and the lines tend to vanish when enjoying your view. It can easily blend with traditional or contemporary house designs. Furthermore, you can make it more stylish by setting up the frame in a manner that fits the style of your home or using different materials. Mixing materials such as metal and wood can actually create some of the most dynamic designs. Cable railing combined with a touch of imagination will set your home apart and set your view free from obstructions.
High Structural Strength of Cable Railing
Cable railing is made from high-strength 316 stainless steel that makes it virtually indestructible. The material used is resistant to corrosion and doesn't deteriorate when exposed to salt air, precipitation, and sunlight. The weather-resistant element makes it ideal for use in any environment, including harsh marine environments. Depending on the type of post and rails you use, a cable railing cab is the strongest option available with the infill, cable, having a load limit of 2,900 pounds. As long as they are installed and maintained properly, cable railings are built to last, making them ideal for homeowners looking for long-term solutions.
Easy to Maintain
Unlike other railing options, cable railing's low-maintenance materials make it a wise investment for any homeowner looking to keep costs down after the installation. It uses tensioning devices to keep the cables tight. Therefore, if you ever need to tighten it up, a few simple wrenches will do the job. Both aluminum and stainless steel cable railing offers an easy to clean solution. With just a soft piece of cloth, car wash soap, and clean water, you can keep the surface looking as good as the day it was installed.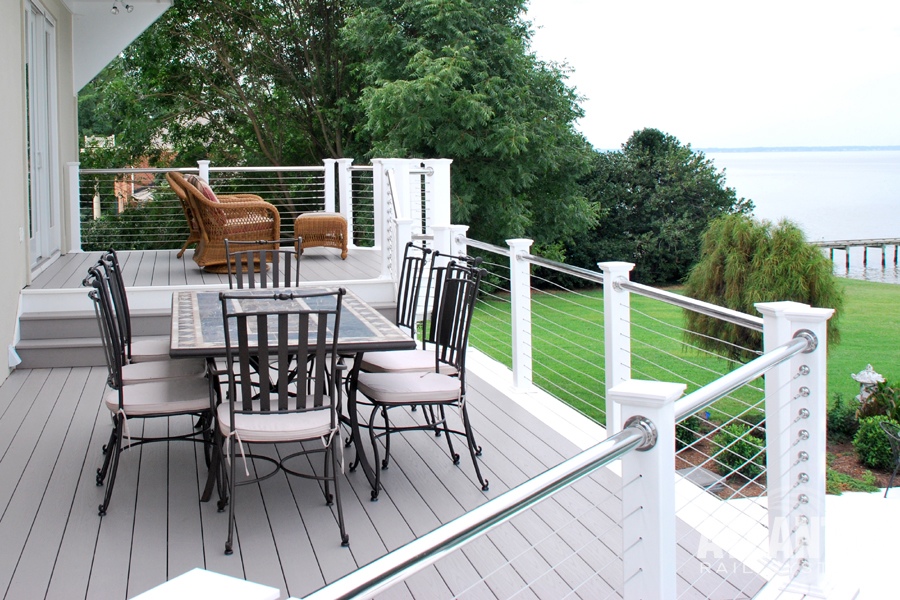 Offers Unobstructed Views
Cable railing is not only beautiful to look at, but it is beautiful to look through. Cable railing offers unparalleled views as the lines become virtually invisible. Seemly blend into the view from the deck or balcony. The beautiful sleek aesthetics sets cable railings apart from other materials. Especially glass, which offers a similar benefit but can become subject to grime buildup, water spotting and fogging. If you have a scenic view from your home, cable railings allow you to enjoy it without any obstructions. This is a perfect fit for balconies, raised decks, and terraces.
A Good Investment for Your Home
These railings provide versatility, durability, ease of maintenance, and minimalist design. They also add more value to your home in the long run. When you decide to sell your home, potential buyers may question the structural integrity of wood or composite railings. With a cable railing system, you won't have to worry about this issue. What's more, the effortless style offered by a cable railing system will make your home even more valuable.
Bottom Line
Ideal for a wide variety of residential and commercial applications, cable railings create a style that's sure to impress. For ideal results, it's important to ensure that you purchase materials that are independently tested. And are being sold by reputable hardware stores and lumberyards.

Find your nearest Atlantis Rail Authorized Dealer here. Get started on making your dream deck, porch, or balcony a reality.