Whether your building is a modern multi-level structure or has an attractive historic design, beautiful and discreet cable railings can create a sense of greater space and openness. The clean, barely noticeable cables are safe, durable, economical, and require far less maintenance than traditional wooden railings. Here are the benefits of cable railings in commercial buildings.
Cable railings offer several advantages over other railing types, and are able to be installed in commercial and residential spaces.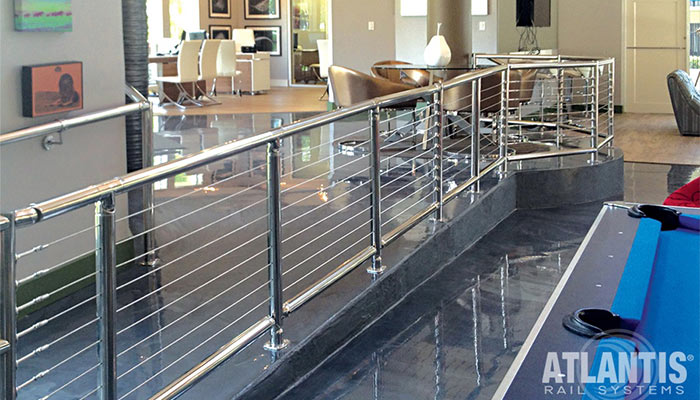 Cable railing applications can enhance the appeal and functionality of your commercial space in several ways. For example, some business owners and managers choose safe and durable stainless steel cable railings in commercial buildings to:
Optimize Existing Space
Cable railing can help you open up a smaller space by removing large obstructive barriers. This allows businesses to do more with less – as the space appears bigger but is still sectioned off. Removing walls, partitions, and other obstructions in favor of cable railings can create a more productive environment without expanding.
Complement Your Style
Cable railing systems can blend in with just about any architectural style. The railings can blend seamlessly with other features within the space. They can also provide a subtle yet harmonious barrier to define stairways, balconies, and walkways within the building. You can also use cable railing to create a feature area or add interest to your balconies.
Terrace and Balcony Views
In commercial spaces where terraces or balconies are present, stainless steel cable railing systems seamlessly connect the inside area with the outside – all while allowing panoramic views all around. Cable railings are also safe and durable barriers, and are installed to meet building and safety codes.
Benefits of Cable Railing Systems in an Office Setting
The sense of openness generated by the installation of stainless steel cable railing allows business owners to optimize their space. They can even create a real sense of luxury for their clients, and provide a bright and open workplace for their employees.
Cable railing systems offer many benefits compared to standard wood and metal configurations. In any office setting or commercial buildings, stainless steel cable railings:
Are perfect in environments to encourage creativity, engagement, and collaboration. By opening the space and having fewer obstructions, team members develop a better visual connection with other members.
Project an aesthetically pleasing appearance that imparts a positive feeling in the working environment.
Create the illusion of greater spaciousness, particularly in a smaller setting, like balconies and stairwells.
Are easy to clean, corrosion-resistant, and retain a like-new appearance far longer than any other material.
Durable and safe, cable railing systems last a lifetime. It is also easy to maintain their tensile strength to ensure safety.
Atlantis Railing Systems
Atlantis Railing Systems is a premier designer, supplier, and manufacturer of an extensive menu of components, connections, and accessories for the highest quality, long-lasting, and secure cable railings. Our products are suitable for DIYers or professional installation.
The range of cable railings include several attractive, low-maintenance options that integrate wood, composites, or vinyl for many commercial applications. Business or building owners can choose the horizontal cable specifications and even glass panel infills along with railings and posts of brushed or highly polished stainless steel.
To learn more about the beautiful, long-lasting features of Atlantis Railing Systems products, visit the Atlantis website to see their industry-leading options.
If you have questions, you may contact one of the Atlantis professionals at 1-800-541-6829.
You can also request a quote by clicking on the following link at Request a Quote – Atlantis Rail Systems.