Outdoor railings can significantly boost the curb appeal of your home. Even better, you don't have to hire a professional for the installation. Though professional work often looks better, you can easily find helpful videos online that you can follow – especially on YouTube. Here we present a few ways to use cable railing to improve the curb appeal of your home.
First Things First, Have a Plan
Transition is perhaps the most important thing when installing railings. You need to incorporate a logical flow between design and functionality if you want to establish a seamless visual connection between spaces.
As such, planning is vital. To tie the various spaces together, begin by sketching a plan of how the design will look. Be sure to include outdoor furniture and finishes in your plan.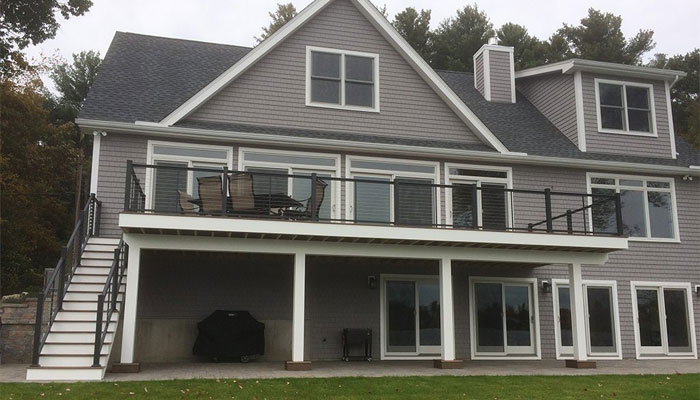 4 Tips to Use Cable Railing to Improve Curb Appeal
Everyone has different tastes. So, the outcome of the project will greatly depend on your personal preferences and the current style of your home. However, it would benefit you greatly to consider the following four tips:
1. Always match the home's architecture
In exterior design, railings are merely accessories. They are the cherry on the cake, often intended to add aesthetic value. Therefore, to find the right railing type and installation style, you need to consider your home's architecture.
If you have a Victorian home, for example, wrought iron railings would be a great choice. However, put the same wrought iron railing structure in front of a ranch-style home and it will look completely out of place. For the ranch-style home, especially if it's a one-story house, a split-rail design would be much more fitting. If you can match the railing design to the home's architectural style, everything else will begin to fall into place.
2. Integrate elements from your home's decor
We've already mentioned the need to tie together the various spaces in your home. The transition from the outside to the inside of the home should be seamless. As one moves through the front door, the home should feel cohesive.
Integrating a few elements of the home decor into your cable railing design can help tie the indoors to the outdoors. In a brick house, for instance, having the cable railing system installed on a brick foundation can help keep the design consistent. Alternatively, you could consider color schemes that tie with elements of the front door, such as the door knocker or handle.
3. Combine cable railing with garden layering
Creating subtle layers in the home's exterior is another way to boost curb appeal. There are different ways to add layering. One option is to add leveled sections of the deck area. You can also add stairs and canopies to create a sense of depth.
We recommend combining layering with cable railing for a stunning outlook. Use the railings to segment the different living spaces in the garden, keeping transitions in mind. The beauty of cable railings is that they offer an unparalleled view of the surroundings, ensuring a distinctive connection with the natural space and gardens.
4. Experiment with cable design elements
Finally, cable railing shouldn't only be about framing your landscape. If you can pick the right materials and build a unique railing design, you can create a welcoming, comfortable outdoor space. Sprinkle some creativity into the project and you'll easily find yourself spending most of your daylight hours outdoors.
So, be bold and experiment with the many versatile cable railing designs available. A stainless-steel cable railing on the deck, for instance, offers a timeless look. You can also experiment with different top rails, posts, cable railing hardware, making your railing unique to you and your home. These are just a few ways to use cable railing to improve curb appeal.
Ready to Make the Leap?
If you're serious about breathing new life into your exterior spaces, consider implementing one or more of the tips discussed above. There are many ways to use cable railing to improve the curb appeal of your home. And you can never go wrong with cable railings, especially with their low maintenance upkeep and streamlined appearance.