Atlantis Rail products are made of marine-grade 316L stainless steel that holds up very well in harsh environments, including oceanfront and commercial environments. When dealing with stainless steel, you may be wondering where to start when it comes to maintaining your new cable railing system. This article will give you a deeper dive into the correct techniques to keep your perfect view.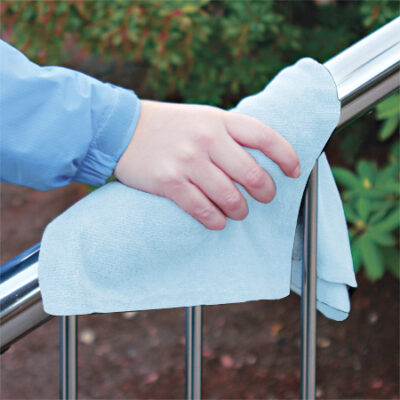 Where do I start?
Your first step should involve an initial cleaning right after the installation of your cable railing system. This will be necessary when removing all foreign matter from all surfaces, such as oil from tools or hands. The ideal goal will be ensuring immediate exposure to Oxygen, to continue the development of a strong Chromium Oxide Passive layer.
What do I use?
Your railing system is not high maintenance. You will need a bucket of warm water, a handheld spray bottle, and a mild car wash soap. You can also check out our Rail Care Kit for a more convenient way to maintain your system. This Kit contains everything needed to clean and protect stainless steel systems.
What else will I need to know?
When maintaining and protecting your stainless steel system, you can always consult The Atlantis Rail Care Guide. The best rule to follow is simply "clean the metal when it is dirty in order to restore its original appearance." You will always want to watch out for harsh cleaners, bare iron tools, and saltwater environments. Always check the environment surrounding your cable railing system to follow the correct procedures going forward. Lastly, enjoy your clear view and pristine stainless steel system without any worries about cleaning and protecting your system.
Atlantis Rail Systems: The Leader in Cable Railing Systems
To learn more about beautiful and practical cable railing systems for your deck, stairs, and balconies, browse the Atlantis Rail Systems website. This Plymouth, MA-based company offers many unique, easy-to-install configurations complete with all necessary hardware to ensure a safe and code-compliant railing system.
For more information on planning cable railings for decks, contact the railing experts at Atlantis Rail Systems at 1-800-541-6829 or by completing the Contact Us Form.