It can be complicated when trying to imagine your perfect cable railing system. With so many options to choose from, consumers need a way to visualize before investing in a big project. We would like to introduce you to the Atlantis Railing Visualizer. Design and pick the layout you prefer to let your imagination come to life. Let us help you create your ideal cable railing system.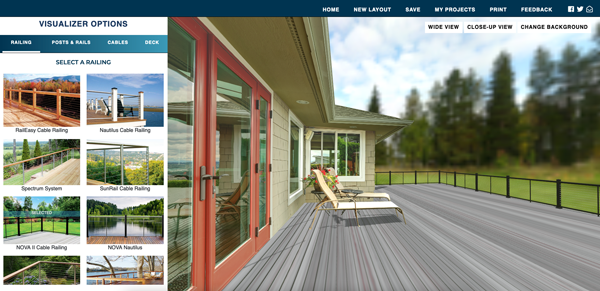 Start By Selecting A Layout
Choose from six different layouts depending on the environment you want to envision. Need a better understanding of when your system involves stairs? No problem, we also included the layout for that specific frame. Once you choose your layout, you can start having fun choosing and switching different systems until you find the perfect fit!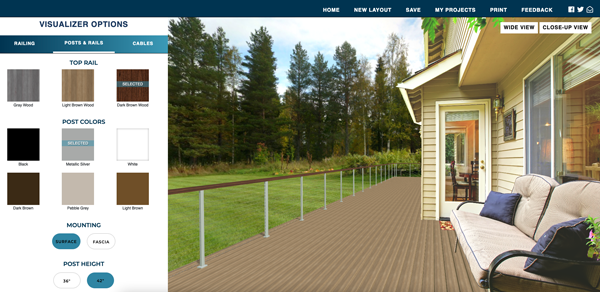 Customize The System You Want
Now that you have selected your layout, you can choose from multiple options. Pick the color, post height, mounting, and more. The Atlantis Visualizer will allow you to get a wide-view and close-up view. You can also change the background to match your property and get an exact feel for your cable railing system. If you cannot find an image similar to your property, you can upload an image. We want you to get as close to reality as possible.

Need More Time To Choose
Even if you have not decided yet and still need more time, you can save any project that you have created. All you have to do is create a profile with us. You can save and go back to any project at your own pace. You can compare multiple systems and have all the time you need to decide which cable railing system may be the right fit for you.
Find Your Ideal Cable Railing System
The Atlantis Visualizer is here to help you picture every detail involved in your railing system. We also hope these resources can help assist with sketching your plan. At Atlantis Rail, we want to make the express quote and layout process run as smoothly as possible. Please note on-screen colors are not necessarily precise. You can always contact your account manager to receive actual samples when providing your final selection. Refer to your local building code officials before installing any Atlantis Rail System.
Please contact us if you have any questions or concerns. We would be more than happy to provide any information or resources you may need when making final decisions. Check out our Atlantis Visualizer today and find your perfect cable railing system!
Atlantis Rail Systems: The Leader in Cable Railing Systems
To learn more about beautiful and practical cable railing systems for your deck, stairs, and balconies, browse the Atlantis Rail Systems website. This Plymouth, MA-based company offers many unique, easy-to-install configurations complete with all necessary hardware to ensure a safe and code-compliant railing system.
For more information on planning cable railings for decks, contact the railing experts at Atlantis Rail Systems at 1-800-541-6829 or by completing the Contact Us Form.