One of the best ways to ensure safety on your rooftop deck is by installing cable railings. In addition to safety, cable railings provide an unobstructed view of the surroundings. There are a variety of options you can use, depending on your preference and the architectural style of your home. We have a variety of cable railing system options for rooftop decks that you can choose. Check them out.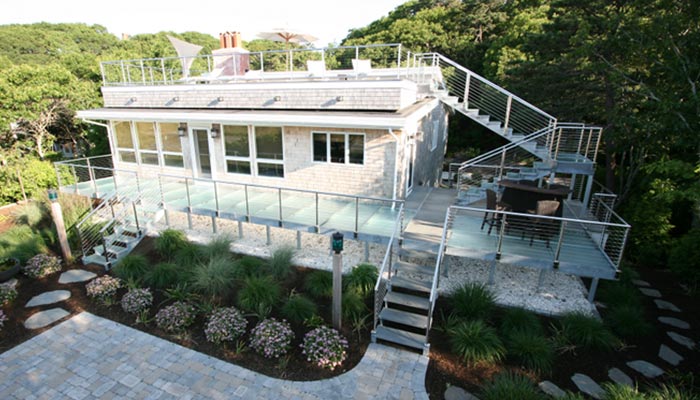 HandiSwage™ Cable Railing
The HandiSwage™ Cable Railing option is the most affordable and simplest railing option for your rooftop deck. Use this collection of components to fix cable railing in any setting and design of your choice. Furthermore, this railing option utilizes traditional swage fittings. Atlantis Rail's hand swage tool is used to attach the components to cable and allow, through post-installation, to cover hardware.
The Handiswage™ system combines durability and aesthetic appeal. As well as, quality RailEasy™ cable elements plus 5/32 inch and 1/8 inch cables. All the components are manufactured using grade 316L stainless steel that is corrosion resistant and durable.
Spectrum System
The Spectrum cable railing system includes various ready-to-install square posts for fascia mount or surface mount settings. A 2 x 4 inch (minimum) hardwood top rail must be provided by the customer. This system is ideal for harsher environments and is installed to last. It uses the HandiSwage™ cable infill while universal posts are installed in ends, the middle, and corners giving an off-the-shelf rail solution for cable railing infill.
The system is available in a variety of color options. Color choices include black, metallic silver, pure white, dark brown, pebble grey, and light brown.
NOVA II Cable Railing
The NOVA II cable railing system features horizontal cable infill, powder-coated aluminum posts, guardrails, and foot rails. This option uses the HandiSwage™ fitting and 1/8 inch cable. It is an off-the-shelf system that features fewer components. The post and rail kit includes everything you will need for installation. Cable mounting hardware, cable and post mounting hardware are purchased separately.
This system is available in bronze, white and black color options. It is among the most economical and straightforward cable railing option available.
Nautilus Cable Railing
The Nautilus cable railing system features 2 inch round handrails. Also optional bottom rails and wood or vinyl sleeved post material allow you to design a custom railing. Combine the Nautilus cable railing system with HandiSwage™ and RailEasy™ cable components to create a unique and attractive railing system for your rooftop deck.
The stainless steel material is a great choice that can make your railing the perfect deck art. Installation is easy and budget-friendly. Nautilus railing system is an excellent choice if you are cost-conscious but want a unique rail to compliment your home.
SunRail™
If you are looking for a complete stainless steel railing system, SunRail™ is a great option. This system is easy to install and provides a customized look. Models feature grade 316L stainless steel and horizontal cable railing infill. Patented tensioners are attached to every post in the factory. No special tools or skills are needed to assemble this railing system.
Ideal for residential or commercial applications, the SunRail™ is perfect for those looking for a sophisticated and unique look.
Latitude Cable Railing
The Latitude System utilizes top rail mounting plates, round base tensioners and features horizontal cable infill. As well as prefabricated 316L stainless steel posts. You can select your preferred hardwood for your top rail, making your railing unique to you and your home. With this design, there is minimal hardware obstruction. Additionally, the mounting plates allow for easy installation of your desired top rail.
Conclusion
Our cable railing system options for your rooftop deck offer unobstructed views. Moreover, they are suitable for both residential and commercial settings. They are assembled using a collection of high-quality components and railing fittings.
Find your nearest Atlantis Rail Authorized Dealer here. Start creating and making your dream rooftop deck a reality today!