Atlantis Rail Systems is now able to give their customers a clear vision of their railing system.
Plymouth, MA, November 23, 2021– Cable railing manufacturer, Atlantis Rail Systems, has been looking for a more visual way to offer customers a tool for designing their own railing system.  To do this effectively, they have announced the release of their new Railing Visualizer on their website.  Chameleon Power has greatly accommodated Atlantis Rail customers with the ability to build and create their desired railing system. 
In just a few clicks, users can select their layout, choose from a variety of cable and glass railing systems, change the background scene, and switch the decking and railing colors. "The focus on outdoor living has been at the forefront for many homeowners," says David Morgan, Vice President of Sales and Marketing for Atlantis Rail Systems. "This tool will help our customers have a clear vision of the railing system that they want along with helping our estimators provide a more accurate quote with a shorter turnaround time."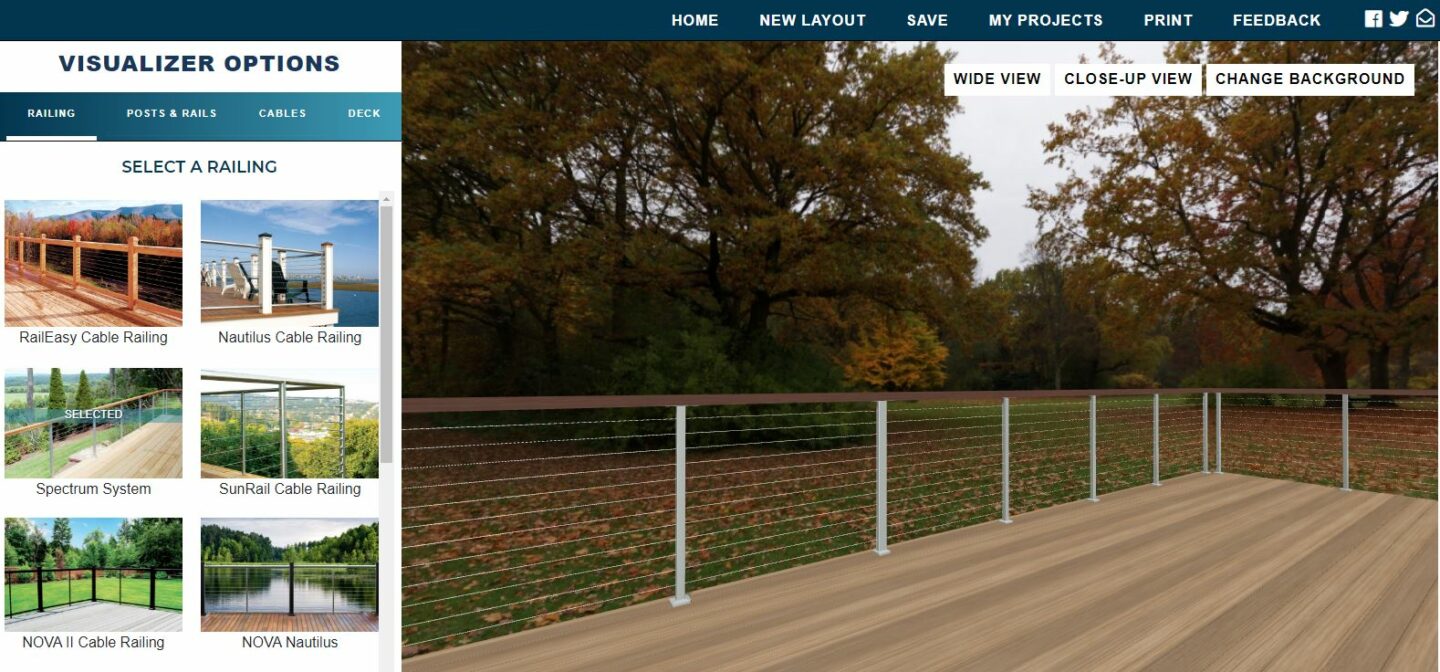 This railing visualizer offers users a realistic view of Atlantis Rail products and assists with style and color selections.  It provides a detailed look into railing style, color, post options, etc.  All Atlantis railing systems are available for viewing, including different layouts and background scenes to give a real feel for how each system will look in different applications.  Customers are even able to upload their own background to get a sense of how the railing system would fit their view.
"The visualizer not only benefits our sales and estimating team by giving them a more accurate picture of what our customers want, but it also is a sales tool for our Authorized dealers to assist their customers in their railing and decking decisions," says Morgan. Besides, being able to update the railing styles that Atlantis Rail offers, this platform can also change the decking colors and post options that Atlantis Rail does not provide, which gives their dealers opportunities for cross-selling.
Atlantis Rail Systems is a leading manufacturer of premium stainless steel and aluminum cable and glass railing systems.  Their systems are ideal for commercial and residential, indoor and outdoor applications and are available through a network of Authorized Dealers located throughout the United States and internationally.  Please contact an Atlantis Rail Sales Representative to find a dealer near you or visit the Dealer Locator on the Atlantis Rail website.  To learn more about Atlantis Rail's visualizer, please visit www.atlantisrail.com or call (508) 732-9191.