New Hire in Atlantis Rail's West Coast Office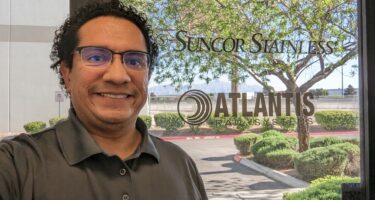 Plymouth, MA, May 25, 2023 – Atlantis Rail Systems expands its Western Sales Team. The newly hired Inside Sales Representative, Nicolas Hernandez, is joining their West Coast office located in Las Vegas, Nevada.
"From the very beginning my new co-workers have been super friendly and very helpful, their product knowledge and expertise in the systems and processes of Atlantis Rail has given me a new outlook on the level of professionalism that I can expect to achieve by absorbing all that they have to share/teach/offer."
– Nicolas Hernandez, Inside Sales Representative
Nicolas Hernandez has brought years of experience in the residential and commercial construction industry to his new position at Atlantis Rail. The communication and quality craftsmanship skills Nicolas has gained will help installers and customers at Atlantis Rail. Atlantis Rail is looking forward to this new journey ahead while the West Coast will be gaining a valuable asset to the inside sales team at Atlantis Rail Systems.
Along with Todd Sargent, Nicolas Hernandez will be supporting sales efforts in the western half of the United States along with Canada and Mexico. Please contact your Western Sales Team for all your Atlantis Rail Systems needs.
Todd Sargent
(508) 732-1018
Nicolas Hernandez
(508) 732-1029
Atlantis Rail Systems is a leading manufacturer of premium stainless steel and aluminum cable and glass railing systems. Their systems are ideal for commercial, residential, indoor, and outdoor applications and are available through a network of Authorized Dealers located throughout the United States and internationally. Please contact an Atlantis Rail Sales Representative to request a quote. To learn more about Atlantis Rail's products and services, please visit www.atlantisrail.com or call (508) 732-9191.