Atlantis Rail Systems Launches a New Top Rail System as an Option for Their Popular Square Post Spectrum Cable Railing System
Plymouth, MA, June 7, 2022– Cable railing manufacturer, Atlantis Rail Systems, has launched a new aluminum top rail for their popular Spectrum cable railing system.  Previously, they supplied the cable, fittings and posts for their Spectrum System and requested the customer supply their own hardwood top rail.  Due to the popularity of this system and customer demand for an integrated top rail, Atlantis Rail has now created their new Spectrum Top Rail System.
"When we introduced the Spectrum System, it quickly became one of our top selling cable railing systems. The logical next step was to offer a metal top rail for this system as an alternative to hardwood. Now we can provide customers with the complete package without any additional material sourcing."

Seth Porter, Product Manager
After working through different styles and design situations, Atlantis Rail came up with a rectangular top rail and small assortment of adaptive fittings to handle most layouts.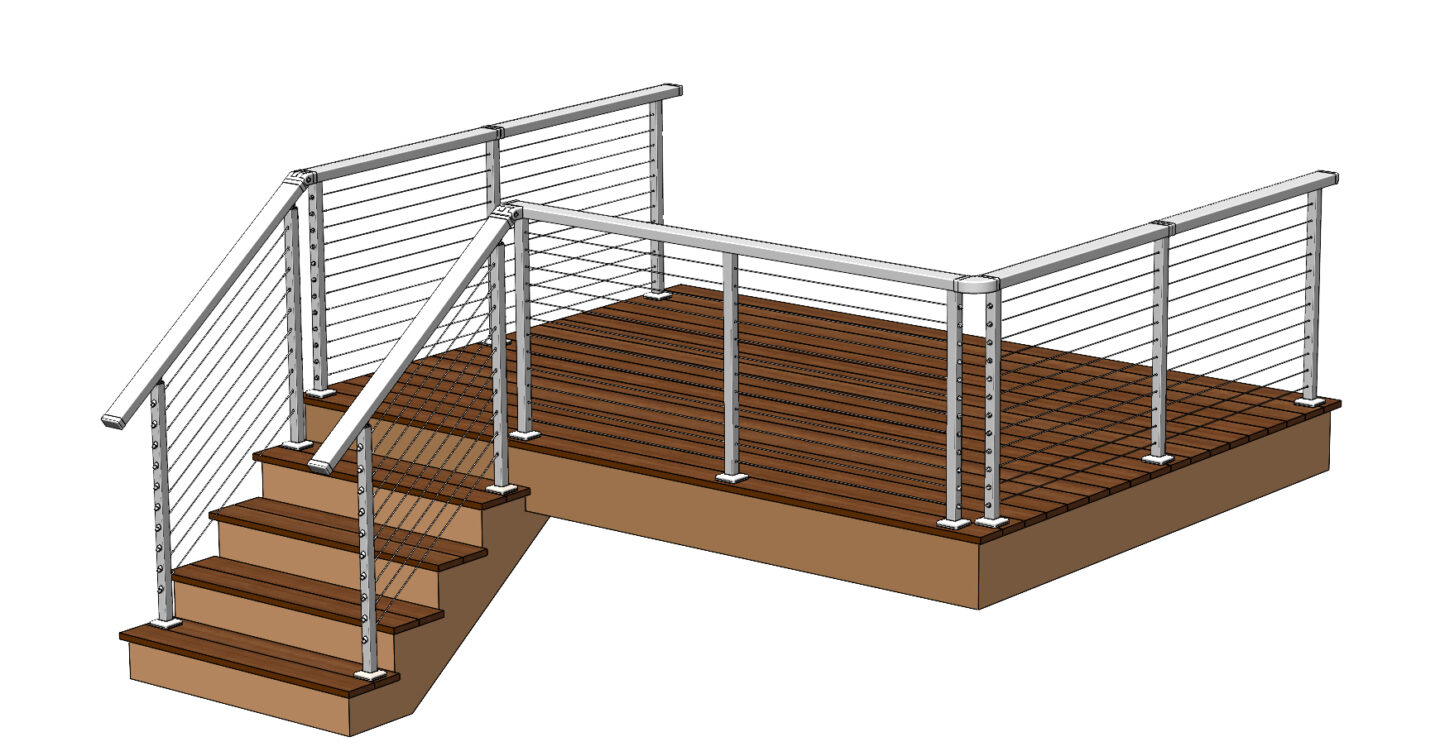 The Spectrum Top Rail System consists of square, 1-1/2" x 1-1/2" stainless steel powder coated posts that can be fascia or surface mounted and an extruded aluminum 1-5/8" x 3-1/2" top rail. The top rail is offered in standard lengths of 4', 6' and 8'. The simple design of the top rail system allows installers to handle a variety of rail transitions using a small set of components and common installation tools. The top rail and associated fittings are made of aluminum and powder coated in the standard and special Spectrum colors. The Spectrum Top Rail System accom­modates stair angles of 33 to 38 degrees using stock material. Special posts are required for angles under 33 degrees and over 38 degrees. This top rail is designed for use with Spectrum posts only. A gate can also be added using the new top rail system.
Atlantis Rail Systems is a leading manufacturer of premium stainless steel and aluminum cable and glass railing systems.  Their systems are ideal for commercial and residential, indoor and outdoor applications and are available through a network of Authorized Dealers located throughout the United States and internationally.  Please contact an Atlantis Rail Sales Representative to request a quote for the new Spectrum Top Rail Cable Railing System.  To learn more about Atlantis Rail's products and services, please visit www.atlantisrail.com or call (508) 732-9191.