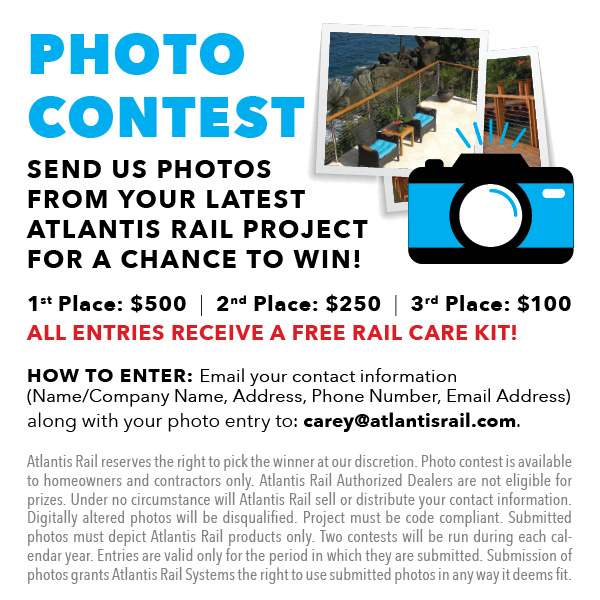 Have you recently installed a SunRail, NOVA II, or any Atlantis Rail Cable Railing System? Do you want to share with the world how amazing it looks? Snap some pictures and enter Atlantis Rail's Photo Contest. This contest is open to both the home/business owner with the railing systems as well as contractors who install our systems.
Twice a year three winners are chosen by our staff. First place wins $500, while 2nd gets $250, and last but of course not least 3rd with $100. Truly there are no losers because just for entering, you get a FREE Atlantis Rail Care Kit.
The Rail Care Kit includes:
Spray Bottle of Passivating Fluid
Microfiber Polishing Cloth
Cup of Metal Polish
Bottle of Car Wash Soap
And all that just for emailing in your pictures. It's easy to enter, just email your contact information (Name/Company Name, Address, Phone Number, Email Address) along with your photo entry to: carey@atlantisrail.com.
You can check out some of the past winners on our website ( https://www.atlantisrail.com/photo-contest ). We look forward to seeing the great projects you all have been working on.
Atlantis Rail reserves the right to pick the winner at our discretion. Photo contest is available to homeowners and contractors only. Atlantis Rail Authorized Dealers are not eligible for prizes. Under no circumstance will Atlantis Rail sell or distribute your contact information.
Digitally altered photos will be disqualified. Project must be code compliant. Submitted photos must depict Atlantis Rail products only. Two contests will be run during each calendar year. Entries are valid only for the period in which they are submitted. Submission of photos grants Atlantis Rail Systems the right to use submitted photos in any way it deems fit.